Must Have Pipettes Equipment Devices in Lab Facility
Pipette
is a primary equipment device used for measuring small quantities of liquid, particularly in volumes of milliliters & microliters. The use of a Pipette ensures precise results of the test with minimal chance of getting errors and therefore, the accuracy of the pipette plays a huge role in the success or failure of experiments and research.
However, each pipette device holds unique features of offering more accuracy and specific guidelines about use and maintenance. How Pipette equipment is handled impacts the accuracy of test results as pipettes can range from disposable plastic pipettes to technologically advanced higher-grade pipettes to conduct accuracy and precision.
It works by creating a partial vacuum above the space where the liquid holds and controls by releasing the vacuum, particularly extracting the liquid up to a precise volume and dispensing it wherever it is required to conduct clinical experiments. It is extensively used in an experimental processes in the field of chemistry, molecular biology (biotechnology), medical science, genetic research, pharmacological testing, and general analysis.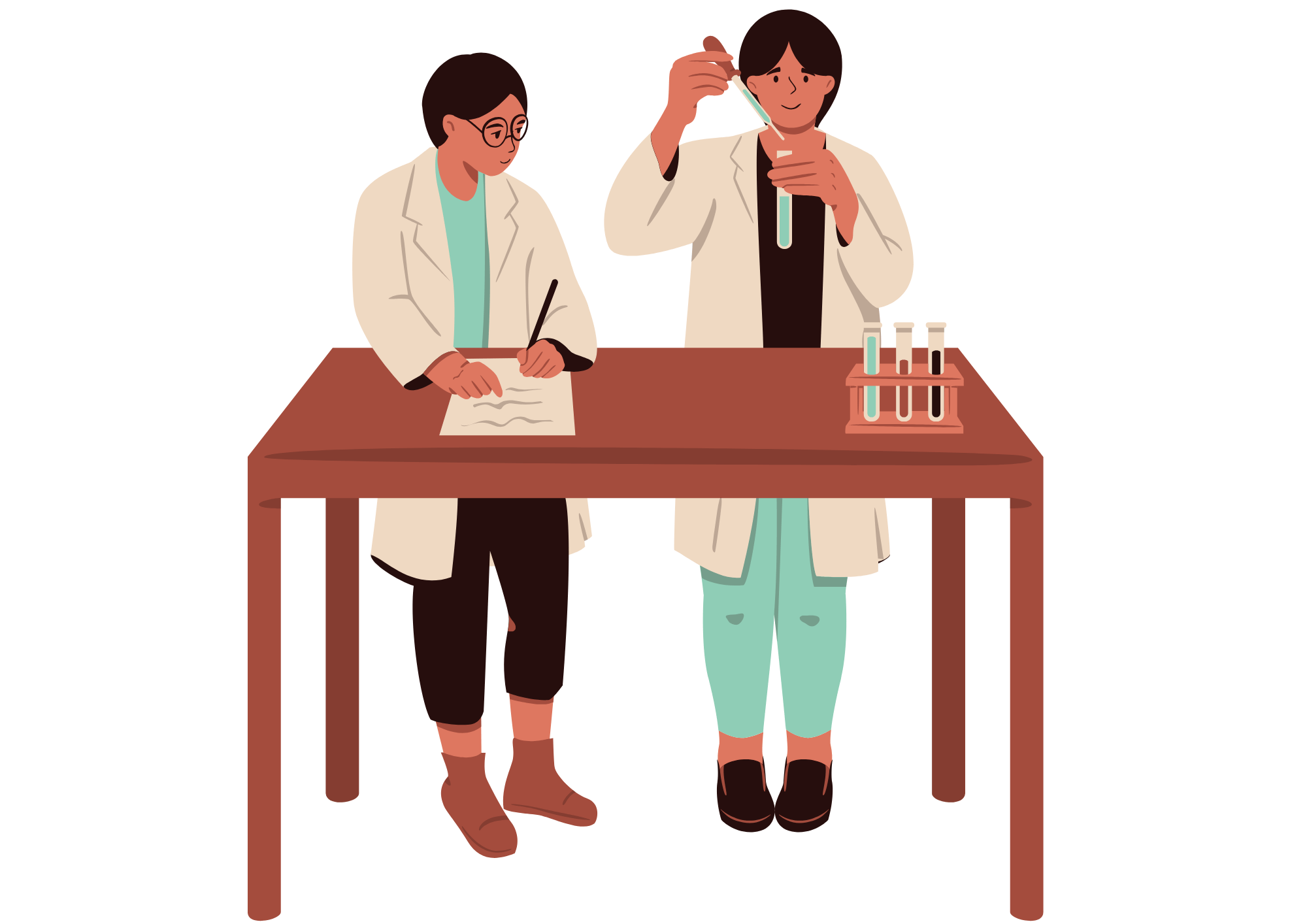 Selecting a Pipette with adjustable volume or fixed volume with a positive displacement pipette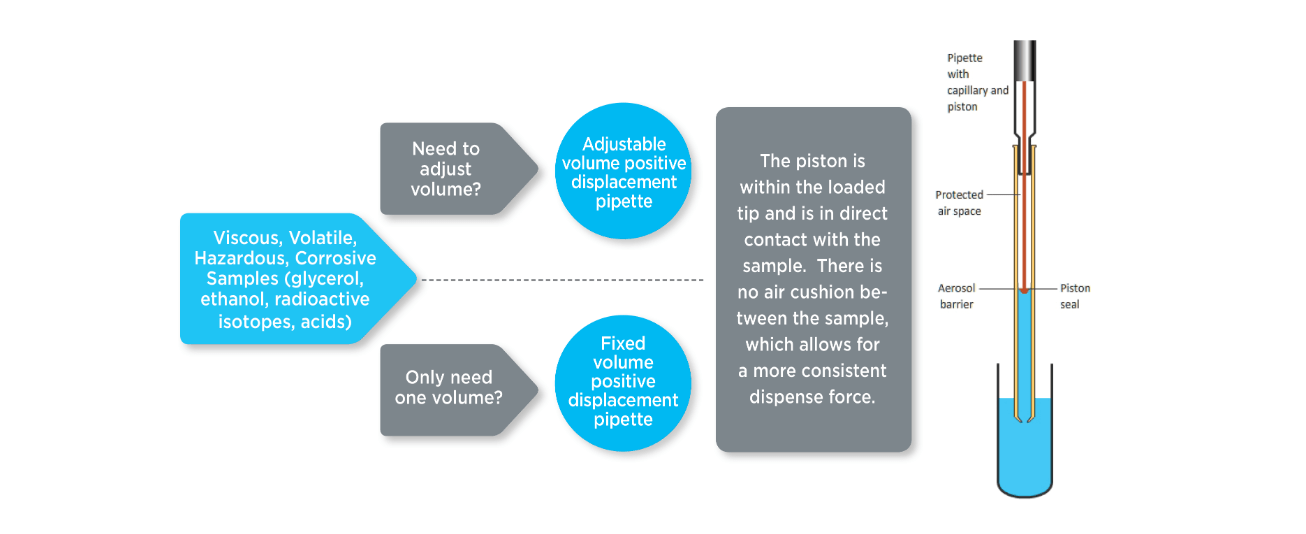 Selecting a Pipette with adjustable volume or fixed volume with air displacement pipette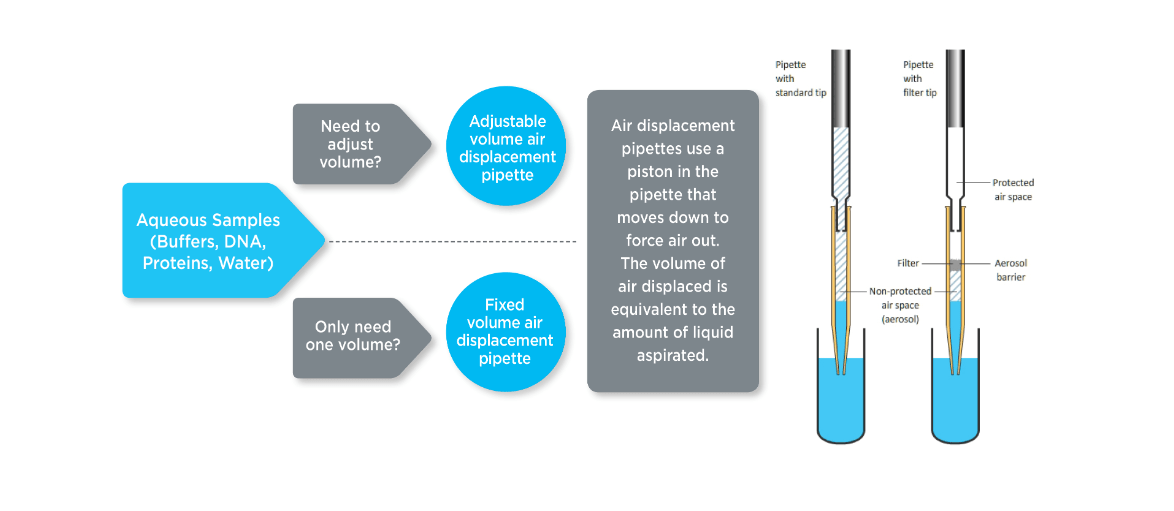 Single Channel Pipette VS Multi-Channel Pipette
| | | |
| --- | --- | --- |
| Features | Single Channel Pipette | Multi-Channel Pipette |
| Type | Single Channel Pipette is the new standard for microliter measurements. It is top of a line micropipette that is ergonomically designed and easily adjustable. | Multi-Channel Pipettes are designed to aspirate and dispense liquid volumes while eliminating many of the potential error risks. Its operation remains correct and controlled, volume settings can be set to prevent accidental volume changes. |
| Efficiency | Ideal to perform a single aliquot for a small sample once at a time. Inefficient tool for multiple pipetting tasks. | A more efficient way to transfer liquids through Multi-Channel Pipette |
| No of pipetting steps required | 576 (6 reagents x 96 Well Microtitre Plate) | 8-Channel Pipette: 72 12-Channel Pipette: 48 (6 reagents x 96 Well Microtitre Plate) |
| Volume of Pipetting | ranges between a volume capacity of 0.1 μl to 10,000 μl | The multichannel pipette has a volume capacity of 0.5 μl to 1000 μl |
| Sample Loading | Sample loading is consistent due to one sample at a time | inconsistent sample loading due to difficulties loading tips in Multi-Channel Pipette |
| Human Error | Human Error due to fatigue and boredom in doing repeated samples | Human error is drastically reduced as the number of pipetting steps decreases |
| Calibration | Sample Calibration is less time-consuming due to single channel pipette | Sample Calibration is time-consuming due to no of channels |
| Repair | Can be replaced and repair | Repairing some multichannel pipettes is impossible because if one channel of the pipette gets damaged, the entire system needs to be changed |
This article illustrates different types of Pipettes equipment devices used in
Laboratories settings
to transfer liquid fluids.
Bottle Top Dispenser is a commonly used lab equipment device, consisting of a piston on a plunger to dispense precise amounts of strong acids and bases, organic and inorganic solvents, trace metal-free liquids, sterile media, oils, and chemicals/ reagents from bottles or other containers. To dispense aliquots of liquid from large containers, several factors such as the volume to be dispensed, and the nature of the liquid that generally needs to be dispensed must be considered to deliver accurate results. The process of dispensing liquid manually holds several risks including inaccurate measurements and even fatal lab accidents, Bottle Top Dispensers are capable of reproducible dispensing without leaving any reagent. Therefore, these bottle-top dispensers are used to improve productivity, performance safety, reliability, and speed up the entire laboratory experimentation process.

A Single Channel Pipette also known as Micropipette, is ideal for handling small volumes of liquid, typically containers that are small and compact in size. Micropipette consists of a thin tube with a calibrated volume and a plunger to draw and dispense the sample; available in adjustable and fixed volumes. Adjustable features allow flexibility to change the volumes, whereas, fixed volumes are pre-assigned volumes thereby preventing errors in dispensing the incorrect volume due to handling. However, the performance is time-consuming and faces ergonomic constraints due to a single transfer at a time.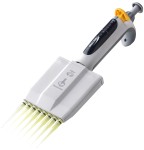 A Multi-Channel Pipette is an enhanced version of the regular pipette, designed to fill multiple vials of liquid at once. Available in different styles, that dispenses precise amounts of liquids across multiple channels more efficiently, accurately, and accessible with the simple push of a button. However, most multichannel pipette models can simultaneously fill anywhere from 6 to 16 samples or more. Thereby it allows the researcher to control the precise amount to be drawn, the pressure of the suction, and the number of samples. Multichannel Pipette is designed to meet top-quality pipetting, deliver a high level of quality and performance, and optimum ergonomics.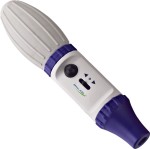 A Pipette Controller's unique mode of functions allows one to rapidly draw and disperse a variety of liquids at precise volumes. Available in chargeable/motorized and manual options, it offers variable speeds to fill and release the pipette using squeezable bulbs, buttons, or pumps. A pipette controller can accurately dispense liquids over a wide range of volumes, resulting in significant benefits of reducing different pipettes used for calibration. Therefore, a Pipette Controller can reduce time spent on repetitive pipetting and speed up operations such as mixing, diluting, and multi-dispensing.
Bottom Line
The pipettes have been extensively used in all scientific and clinical applications. Accuracy and repeatability are key aspects of testing with pipettes and therefore, it is important to evaluate the type of test to determine which pipette type is suitable as the incorrect way of handling the pipette significantly impacts the results.
We offer quality and certified pipettes and other liquid-handling
instruments for laboratory needs
. For inquiries, kindly get in touch with our
Lab Technicians
.