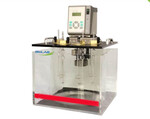 Viscometer Petroleum Equipment
Viscosity of an oil is defined as its resistance to flow and Viscometer measures the flow. Monitoring viscosity is one of the most important components of any oil analysis program. Minute changes in viscosity at operating temperatures can be magnified to the extent that an oil is no longer able to provide adequate lubrication and efficiency in preventing friction between moving parts.
Series : 100
Working unit :
4 tubes
2
- 5 °C – 40 °C ± 0.02 °C
5
One-click, Automatic
Imported PID digital temperature controller
6 pieces in total and the diameters for each is 0.6, 0.8, 1.0, 1.2, 1.5, 2.0 mm.
Ambient to 80 ℃
-5,-10 -15,-20,-25,-30,-35
12